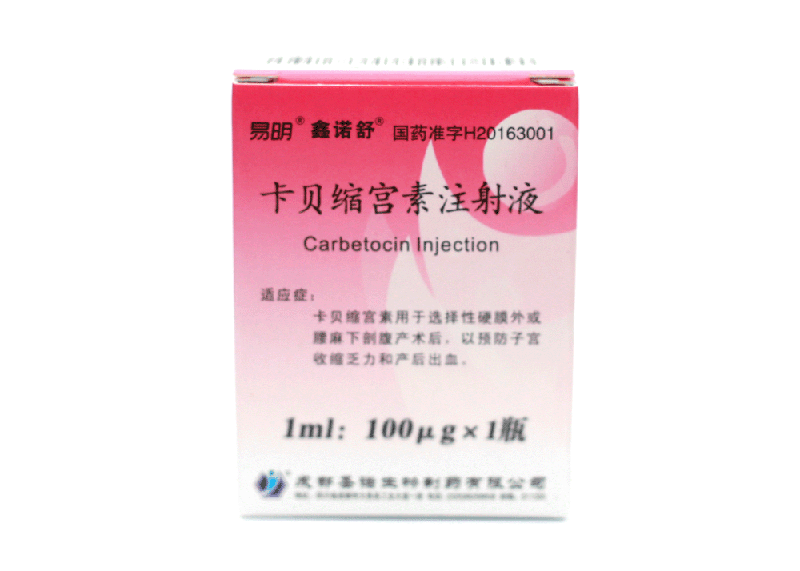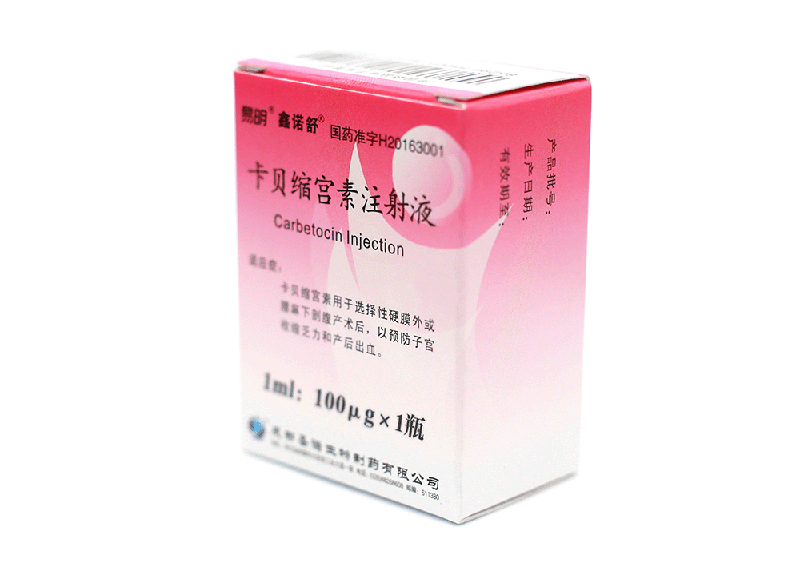 [drug name]
General name: carbetoxine injection
English Name:Carbetoxine injection
Chinese Pinyin: kabeisuogongsu Zhusheye
[ingredients] main ingredients: the active ingredient of the product is carbetoxine, and the auxiliary materials are sodium chloride, glacial acetic acid and water for injection. Chemical name: molecular formula: c43h67n11o12s2 · nc2h4o2 molecular weight: 988.1 auxiliary material:
[properties] this product is a colorless clear liquid
[indications] Carbetoxine is used to prevent uterine atony and postpartum hemorrhage after selective cesarean section under epidural or lumbar anesthesia. No studies have been conducted on the use of carbetoxine in emergency caesarean section, classic caesarean section, epidural or spinal anesthesia under other anesthesia, or in cases where the parturient has a significant history of heart disease, hypertension, known coagulation disease or liver, kidney and endocrine diseases (excluding gestational diabetes). After vaginal delivery, the treatment of cabesiocietin has not been properly studied, and its dose has not been determined.
Related information
[contraindications] compared with oxytocin, the action time of carbetoxine is longer, and the resulting uterine contraction cannot be stopped simply by terminating the administration.
Therefore, it is not allowed to give carbetoxine, including selective or drug-induced production, for any reason during pregnancy and before delivery. Improper use of carbetoxine during pregnancy can theoretically lead to symptoms similar to oxytocin overdose, including strong (hypertonic) and persistent (tetanic) contractions following uterine hyperstimulation, disturbances during childbirth, rupture of the uterus, laceration of the cervix and vagina, postpartum hemorrhage, decreased uterine placental perfusion and various fetal heart slowdowns, fetal oxygen deficiency Hypercapnia, even death. Carbetoxine cannot be used in patients who are allergic to oxytocin and carbetoxine.
Carbetoxine can not be used in patients with vascular diseases, especially coronary artery disease, if you use it, you must be very careful. Carbetoxine should not be used in children either.
[precautions] routine: carbetoxine is forbidden to be used during pregnancy and before delivery (see contraindications). See warning for indications for further oxytocin treatment. Carbetoxine is not recommended in elderly patients.
Warning: after a single dose of carbetoxine, in some patients, there may not be enough uterine contractions. For these patients, carbetoxine cannot be given repeatedly, but further treatment with additional doses of other uterine contraction drugs such as oxytocin or ergometrine is allowed. In the case of continuous bleeding, the retention of placenta fragments, coagulation disease or birth canal injury should be excluded.
Although no cases of partial placental retention or placenta interception have been reported, in theory, this is still possible if carbesotene is given before the placenta is delivered.
Chengdu Shengnuo Biotechnology Co.
Tel: 86-28-88203630
Fax: 86-28-88203630
Email: [email protected]
QQ:2539328606
Facebook:[LEI LI](https://www.facebook.com/profile.php? id=100047326162701)
Linkedin: Roleagh
Chengdu Shengnuo Biotechnology Co., Ltd. has "Chengdu polypeptide drug engineering technology research center" in Chengdu, mainly engaged in polypeptide, polypeptide drug and beauty peptide research. Our zero defect has passed the FDA certification, and now it has become the first-class professional peptide drug and product development, technology transfer, technical service and peptide drug industry in the scale production and export of China's parks.