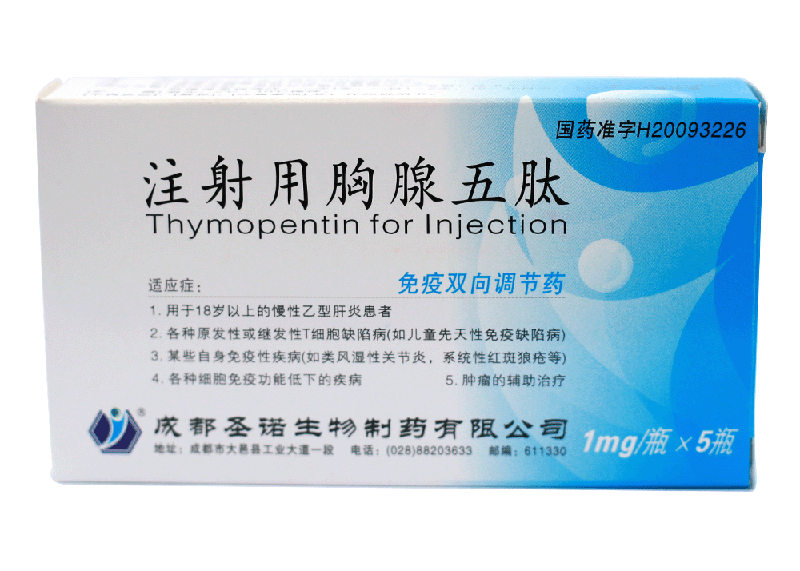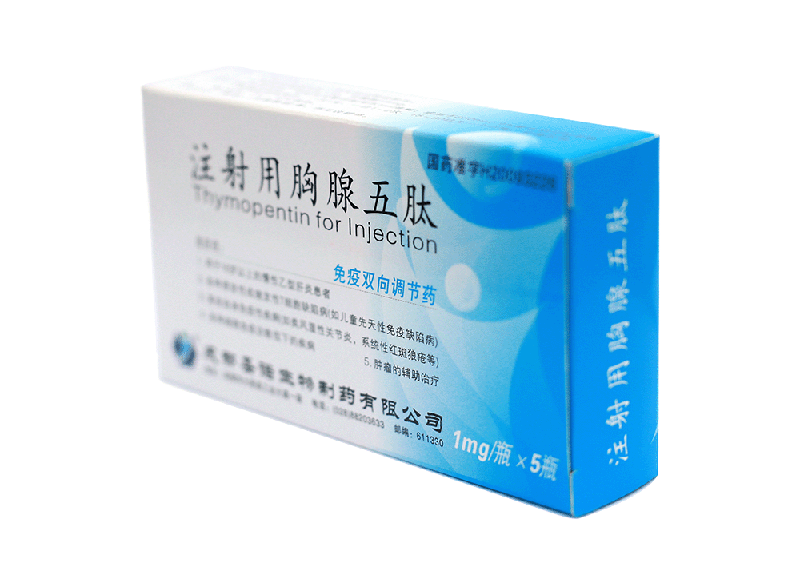 Peptide drugs: thymopentin for injection
[drug name] general name: peptide drug: thymopentin for injection
[ingredients] main ingredients: thymopentin chemical name: molecular formula: molecular weight: excipients:
[properties] the product is white, freeze-dried and loose block or powder.
Indications
(1) For patients over 18 years old with chronic hepatitis B.
(2) Various primary or secondary T-cell defects (such as children's congenital immunodeficiency).
(3) Some autoimmune diseases (such as rheumatoid arthritis, systemic lupus erythematosus, etc.).
(4) Various diseases with low cellular immune function.
(5) Adjuvant treatment of tumor.
Related information
[usage and dosage] before intramuscular injection, add 1ml of sterilized water for injection to dissolve; or dissolve in 250ml of 0.9% sodium chloride injection to intravenous drip slowly and separately. One at a time, 1-2 times a day, 15-30 days as a course of treatment. Or as directed.
[adverse reactions] (1) good tolerance, nausea, fever, dizziness, chest distress, weakness and other adverse reactions can be seen in some patients, and a few patients occasionally have a sense of drowsiness.
(2) The ALT level of patients with chronic hepatitis B may rise temporarily when they use it. If there is no sign of liver failure, they can still use it.
[contraindications] those who have allergic reaction to this product and those who need immunosuppression at the early stage of organ transplantation should not use it.
[precautions]
(1) This product plays a therapeutic role by enhancing the immune function of patients. Therefore, patients undergoing immunosuppressive treatment (such as organ transplant recipients) should use this product carefully, unless the benefits of treatment are obviously greater than the risk.
(2) The liver function of patients with chronic hepatitis B should be checked regularly.
(3) Patients under 18 years old should use it with caution.
[medication for pregnant women and lactating women] animal fertility study showed that there was no difference in the influence of abnormal embryo between the control group and the treatment group. At present, it is not known whether the drug will harm the embryo or affect fertility. Therefore, the drug can only be given to pregnant women when it is necessary. Although it has not been confirmed that this product is excreted by human milk, it should be used with special caution for lactating women.
[children's medication] in patients under 18 years old, the safety and effectiveness of this drug have not been established.
[drug interaction]
(1) This product is used in combination with many commonly used drugs, including interferon, anti-inflammatory drugs, antibiotics, hormones, analgesics, antihypertensive drugs, diuretics, drugs for cardiovascular diseases, central nervous system drugs, contraceptives, without any interference.
(2) Combined with interferon, this product has synergistic effect on improving immune function.
[drug overdose] at present, there is no report on human overdose (treatment or accident).
[pharmacology and toxicology] this product is a bi-directional immunomodulator. It has the function of inducing and promoting the differentiation, maturation and activation of T-lymphocytes and their subsets, regulating the proportion of T-lymphocytes, and making CD4 / CD8 tend to be normal; regulating and enhancing the immune function of human cells can promote the maturation of T-lymphocytes in peripheral blood after mitogen activation, and increase various lymphokines (e.g. α) of T-cells after various antigens or mitogen activation The secretion of IFN - γ, IL-2 or IL-3) increased the level of lymphokine receptor on T cells. It also enhances lymphocyte response by activating T helper cells. In addition, the product may affect the chemotaxis of NK precursor cells, which become more cytotoxic after exposure to interferon. Therefore, this product has the function of regulating and enhancing the cellular immune function of human body.
[pharmacokinetics] this experiment was not carried out and there was no reliable reference.
[storage] keep away from light, 2 ℃ ~ 10 ℃
[packaging] the low borosilicate glass tube injection bottle is used as the inner cover, 1mg / bottle × 5 bottles / small box.
[validity period] 24 months
[approval No.] gyzz h20093226
[manufacturer] company name: Chengdu shengnuo bio Pharmaceutical Co., Ltd
Address: Section 1, Industrial Avenue, Dayi County, Chengdu
Chengdu Shengnuo Biotechnology Co.
Tel: 86-28-88203630
Fax: 86-28-88203630
Email: [email protected]
QQ:2539328606
Facebook:[LEI LI](https://www.facebook.com/profile.php? id=100047326162701)
Linkedin: Roleagh
Chengdu Shengnuo Biotechnology Co., Ltd. has "Chengdu polypeptide drug engineering technology research center" in Chengdu, mainly engaged in polypeptide, polypeptide drug and beauty peptide research. Our zero defect has passed the FDA certification, and now it has become the first-class professional peptide drug and product development, technology transfer, technical service and peptide drug industry in the scale production and export of China's parks.